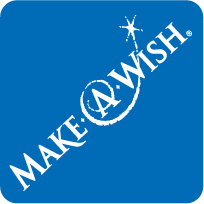 The Make-A-Wish Foundation® grants wishes to children battling life threatening medical conditions. The Greater Los Angeles chapter has fulfilled over 7,000 wishes since it began in 1983.
NorthStar Moving has been working with the Make-A-Wish Foundation® of greater Los Angeles providing them with moving services, free storage year-round, picking up donations from time to time, helping in the preparation of the annual Uncork a Wish fundraiser, the annual Season of Wishes during the Holidays, and granting wishes.
Claire's Wish
Make A Wish Foundation of Los Angeles granted their 7,000th wish to Claire Wineland who is a 13 years old vibrant girl who has cystic fibrosis. Claire's wish was to have a famous designer Kim Myles of HGTV remake her room to be a mermaid room. NorthStar Moving Corporation is Make A Wish's official mover and we were happy to be involved with granting her wish.
Here's a peek behind the scenes of making a child's wish come true. As you watch, you'll see what we saw, this girl loves the camera and the camera loves her!
One of Claire's favorite things to do is to watch America's Next Top Model. As luck would have it, we were searching for the right face to represent our online character Snap Greene™ whose blog Moving Happiness Home™ is all about going green, the community and, of course, moving. Claire's passions also include saving the environment, mermaids and being an advocate for children with health issues. A wish expansion was born!
A professional photo shoot with Hair and Make Up done by Marqui Besneatte of www.HelmetSalon.net and photos done by Ion Hartunian of www.IonHartunian.com transformed Claire into Snap Greene™ and her sister Ellie into Sparkle Greene™.
To continue with the mermaid theme, the photo shoot included underwater scenes with the girls dressed in biodegradable bubble wrap mermaid costumes!
Mission Accomplished. Claire LOVED the experience. Watch what she says about her photo shoot day and how the pictures turned out in her own videos on her facebook page.
See photos from behind the scenes of Claire's wish on our facebook page, as well as photos of Claire's photo shoot for NorthStar Moving's Blog.
Please give to Claire and her family.