This story featuring NorthStar Moving appeared in the July/August issue of Direction, published by AMSA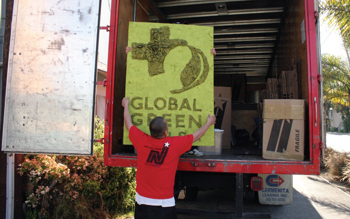 NorthStar Moving donated it's services to the
Global Green's annual Pre-Oscar Party.

also contributes to more than 2,000
premature deaths, asthma attacks, and
other respiratory problems each year.
These problems are exacerbated when
large vehicles are left idling. With over
50,000 trucks on the road—just in
AMSA members alone—imagine the
damaging influence trucks can have on
the environment.
"In today's climate, companies cannot
afford to ignore the environmental
impact of their services," said NorthStar
Moving Corporation Founder and President Ram Katalan. "Together as an
industry it is time that we join forces and
reduce our carbon footprint."
So when becoming a green company,
remember that even the little things
count. Consider the amount of energy
every company uses on a daily basis.
There are simple steps for any company
to make an eco-friendly environment.
Doing such things as printing less paper;
turning off the lights, computers, etc. at
night; starting a recycling program in the
office; using non-toxic/eco-friendly
cleaning supplies for the office;
carpooling with co-workers; and making
it a habit to bring your own mug and
dishware for those meals you eat at
the office.
The green theme has hit many industries, and it is just now beginning to reach the moving industry. And, as businesses across the country begin to implement more eco-friendly measures in office parks, warehouses, ballparks and retail outlets the demand for green moving is sure to increase as well. So why is it important for a moving company to be green?
Global Green is working to address some of the greatest challenges facing humanity. In the United States the organization is primarily focused on stemming global climate change by creating green buildings and cities. Global Green is the American Arm of Green Cross International (GCI), which was created by President Mikhail S. Gorbachev to foster a global value shift toward a sustainable and secure future by reconnecting humanity with the environment.
One answer is that moving vans and delivery vehicles historically have run on diesel fuel and movers use destructive packing materials such as petroleum based-bubble wrap and Styrofoam. Diesel fuel emits harmful toxins into the air which creates a cancer risk from outdoor air pollutants. Diesel particulate matter

SUSTAINABILITY INITIATIVES
IT'S TIME TO GO GREEN
Companies are carrying out environmentally-friendly practices.