When moving, make sure you're well covered.
When moving, it's always a good idea to be insured. A moving company will provide you with valuation, which is not full-coverage insurance.
What is valuation?
A moving company offers valuation for your goods, which is not technically insurance. Valuation refers to how much a moving company will pay for your belongings if they are damaged or lost by the moving company. Valuation is regulated by the State or the Federal Government. (The State when you're making a local move. The Federal Government when you're making a move that crosses State lines.) All licensed moving companies include the basic valuation in the cost of your move. In California, basic valuation is $.60 per pound per item.
Valuation is based on how much something weighs. So a one pound bag of sugar and a one pound bag of diamonds is valued exactly the same. Its valuation in California is: $.60. If it's worth more than $.60 per pound per item to you, you may want to purchase additional insurance from a third party that sells insurance NOT from your moving company. You can also purchase additional valuation directly from your moving company.
Where can I find moving insurance?
Your homeowner's insurance might already provide you with insurance while moving, so you should check with your insurance agent. If you do not already have coverage, we recommend purchasing moving insurance through a third-party seller. Movinginsurance.com or Baker International are good resources. (Just so you know, we aren't affiliated with either of these companies however, we were recognized as "Top Mover" by Movinginsurance.com.)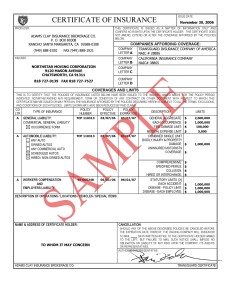 Do I need a Certificate of Insurance?
If you are moving an office, an apartment or a condominium building, you might need something called a Certificate of Insurance. Before your move, it is best to ask your building manager if this is required. We are happy to provide you with one. Just give us a call at 1 (800) ASK-PROS.
No amount of insurance can replace a priceless memory saved in those old photographs of your grandparents or that clay handprint your kids made you for your birthday. Choosing a mover with a great reputation is your best bet against ever needing insurance.
Have questions about valuation or moving insurance?
Do you need a Certificate of Insurance?
Call us at (800) ASK-PROS.