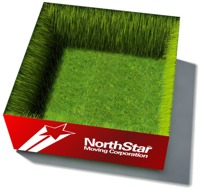 An Entire Fleet of Moving Trucks Running On Biodiesel
In 2008, in an effort to lighten our carbon footprint, NorthStar Moving Corporation converted its entire fleet of moving trucks to run on Biodiesel. We are now powering our entire fleet of big red trucks with cleaner burning fuel made from natural renewable sources such as vegetable oils. Diesel fuel emits harmful toxins into our air and is responsible for the majority of California's known cancer risks from outdoor air pollutants, according to the California Air Resources Board. Diesel particulate matter also contributes to more than 2,000 premature deaths, asthma attacks, and other respiratory problems each year. Who needs that? Our red trucks were all proud to go green.
The air pollution problems are exacerbated when large vehicles are left idling. NorthStar Moving not only took the radical step of using only biodiesel fuel in our fleet, but also installed battery-powered lift gates on all of our trucks so that the vehicles could be turned off while the lift gates are still in use. This alleviates any need to leave vehicles idling. We have been contacted by many different entities and individuals who have been inspired by this huge step, and this warm response serves to strengthen our resolve to find other green moving solutions.